Bunny Tracks Brownie Pie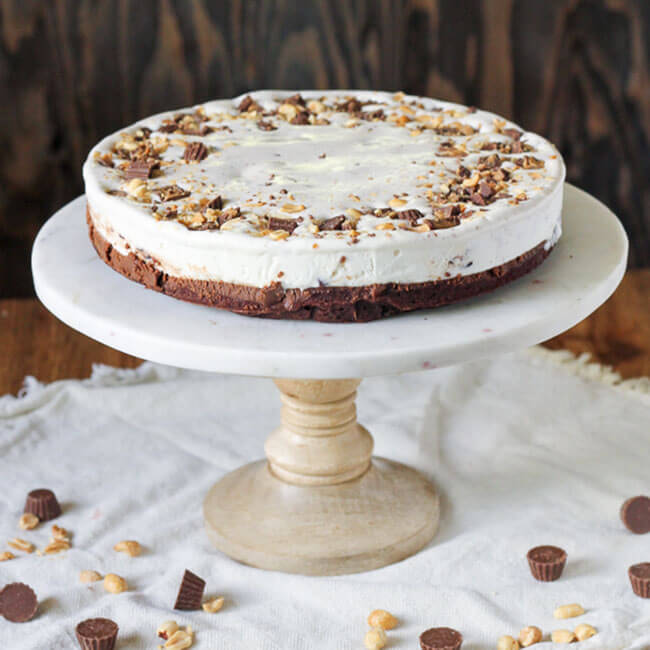 Total Time:
2 hours, 45 mins
Prep Time:

45 mins

Cook Time:

2 hours
Ingredients
For the brownie
10 tablespoons (1 ½ sticks) unsalted butter
1 ¼ cups granulated sugar
¾ cup plus
2 tablespoons unsweetened cocoa powder
¼ teaspoon salt
1 teaspoon vanilla extract
2 large eggs
½ cup all purpose flour
For the peanut butter ganache
½ cup heavy cream
4 ounces semisweet chocolate, chopped
2 tablespoons creamy peanut butter
To assemble
½ quart Blue Bunny Bunny Tracks, softened
¼ cup peanuts, chopped
¼ cup peanut butter cups, chopped
Instructions
Preheat oven to 325 degree F. Line a 10-inch springform baking pan with parchment paper, spray with cooking spray; set pan aside.
In a large microwave-safe bowl, combine butter, sugar, cocoa, salt, and heat on high power to melt, about 45 seconds. Stop to stir, and heat in 10-second bursts until mixture has melted and can be stirred smooth (mine took 45 seconds + 15 seconds). Batter will be very granular.
Add the vanilla and eggs and stir vigorously until batter is thick, shiny, and well blended. Add the flour and stir until you cannot see it any longer. Then beat vigorously for 40 strokes with a wooden spoon or a rubber spatula. Pour the batter into the prepared pan and spread evenly.
Bake until a toothpick in the center emerges slightly moist with batter, about 15 - 18 minutes.
Check with a toothpick for moist crumbs, not batter. Place on a wire rack to cool completely. Microwave the heavy cream for 45 seconds in a measuring cup.  Add the chocolate and peanut butter and let stand for 2 minutes. Stir until the mixture is completely smooth. Pour evenly over the brownie layer and place pan in the freezer for 10 minutes to firm up.
Remove brownie layer from fridge and top with softened Blue Bunny Bunny Tracks. Garnish with peanuts and peanut butter cups. Place in the freezer for 2 hours before serving.
Featured Flavors
Vanilla with other natural flavors frozen dairy dessert, chocolaty peanut butter bunnies, chocolaty covered peanuts, caramel and fudge swirls.