Bunny Tracks Pie with Chocolate Chip Cookie Crust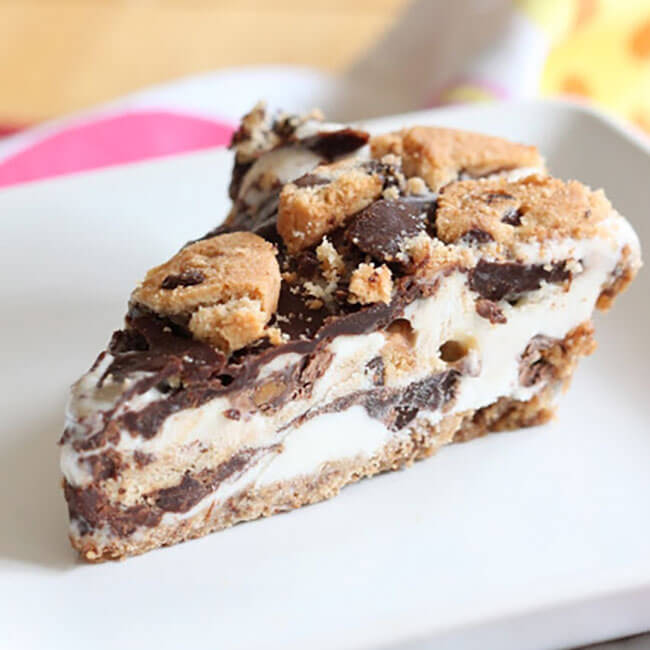 Total Time:
2 hours, 30 mins
Prep Time:

30 mins

Cook Time:

2 hours
Ingredients
Crust
2 cups chocolate chip cookies, ground
3 tablespoons granulated sugar
¼ cup unsalted butter, melted (use more if the mixture is too dry)
Filling
1 carton Blue Bunny Bunny Tracks
4 oz. bittersweet chocolate, finely chopped
2 tablespoons unsalted butter
3 tablespoons light corn syrup
4-6 chocolate chip cookies, broken into large pieces (for layering and topping)
Note: you can also use chopped peanuts, peanut butter chips, etc. for layering and topping too!)
Instructions
Preheat oven to 350.
In a mixing bowl, combine all of the crust ingredients until the ground cookies are moistened. If the mixture looks too dry, you can gradually add in more melted butter. Press the mixture onto the bottom and up the sides of a 9-inch pie dish. Place in oven and bake 5-10 minutes, until the crust starts to dry out. Let the crust cool completely.
Take the carton of Blue Bunny Bunny Tracks from the freezer 10-15 minutes before you assemble the pie.
Meanwhile, make the ganache. In a medium saucepan, combine the bittersweet chocolate, butter, and corn syrup on low heat. Stir the mixture over low heat until melted. Set aside to cool. You don't want the mixture too warm or else it will melt the Bunny Tracks.
Once the Bunny Tracks is softened (but not melted), scoop out a layer over the crust. Then pour half the ganache over the Bunny Tracks layer and spread with the back of a large spoon. Next, sprinkle half the chopped chocolate chip cookies. Repeat these steps with another layer of Bunny Tracks, the rest of the ganache, and the rest of the chopped cookies.
Place in the freezer until fully set, then cover with plastic wraps and\/or aluminum foil.
When ready to serve, use a heated knife or a knife dipped in hot water (then dried with a towel) to cut slices of the pie. Keep leftovers in the freezer, wrapped well.
Featured Flavors
Vanilla with other natural flavors frozen dairy dessert, chocolaty peanut butter bunnies, chocolaty covered peanuts, caramel and fudge swirls.