Peanut Butter Party Frozen Cake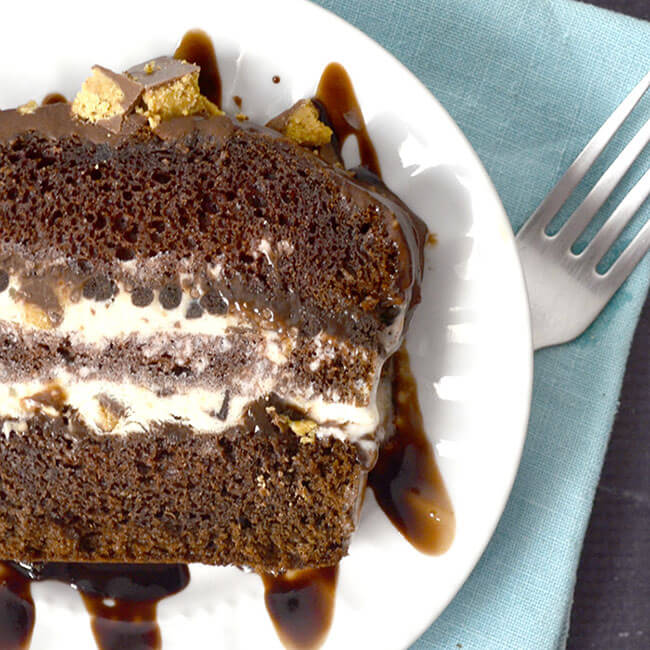 Total Time:
4 hours, 30 mins
Prep Time:

30 minsmins

Cook Time:

4 hourshours
Ingredients
1 box chocolate cake mix and ingredients needed to make cake
1 small box instant chocolate pudding
2-3 cups softened Blue Bunny Peanut Butter Panic, softened
¾ to 1 cup fudge ice cream topping; ¼ cup reserved for topping
4 regular sized peanut butter cups, chopped
¼ cup mini chocolate chips or chocolate sprinkles
Instructions
To prepare your cake batter, add the instant pudding mix to the dry cake ingredients, and follow the directions on the back of the box.
Grease and flour your loaf pan or use baking spray, which contains flour. Fill the loaf pan just a little over halfway full. (You will have extra batter.) Bake the cake in a 350 degree oven for about 35 to 40 minutes or until tested with a cake tester or skewer and it comes out clean. Let cool for about 10 minutes in the pan then remove and let cool completely on a rack.
Take the Peanut Butter Panic out of the freezer to soften so you can spread it between the cake layers. With cake cooled completely, slice it horizontally in 3 equal portions.
Line your loaf pan with plastic wrap. Place the bottom layer of cake back in loaf pan. Spread ¼ cup of fudge topping over first layer of cake. Next, add a layer of Blue Bunny Peanut Butter Panic and spread evenly (about 1 cup). Place the middle layer of cake on top of Peanut Butter Panic layer. Repeat the same layering of ¼ cup of fudge topping and 1 ½ cup of softened Peanut Butter Panic. Now sprinkle with about ½ cup of sprinkles and\/or mini chocolate chips.
Top with the top layer of the cake and wrap it up with the plastic wrap.
Put it into the freezer for at least 3 hours.
Top this with a drizzle of fudge topping and some chopped peanut butter cups. Allow to thaw for about 30 minutes before you slice and serve.
Featured Flavors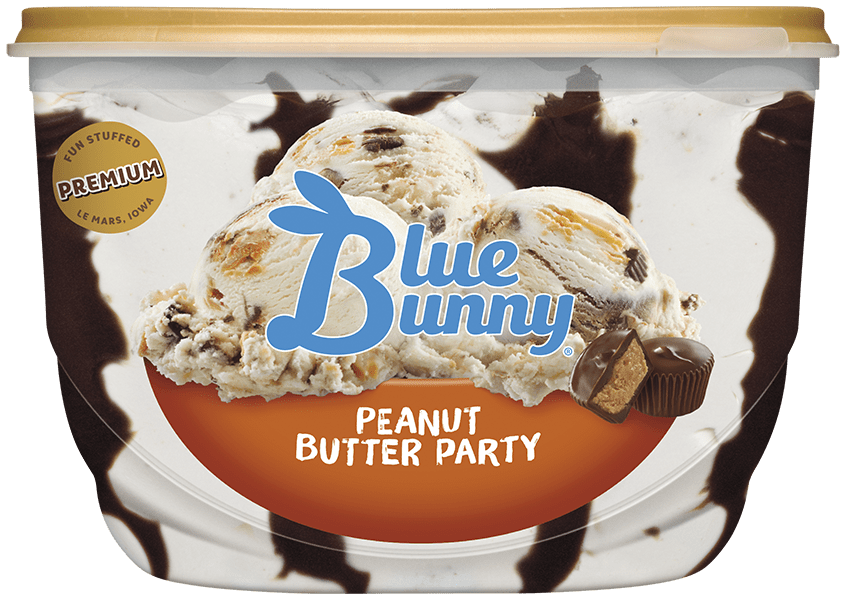 Peanut butter frozen dairy dessert, fudge and peanut butter swirls, and peanut butter cups.